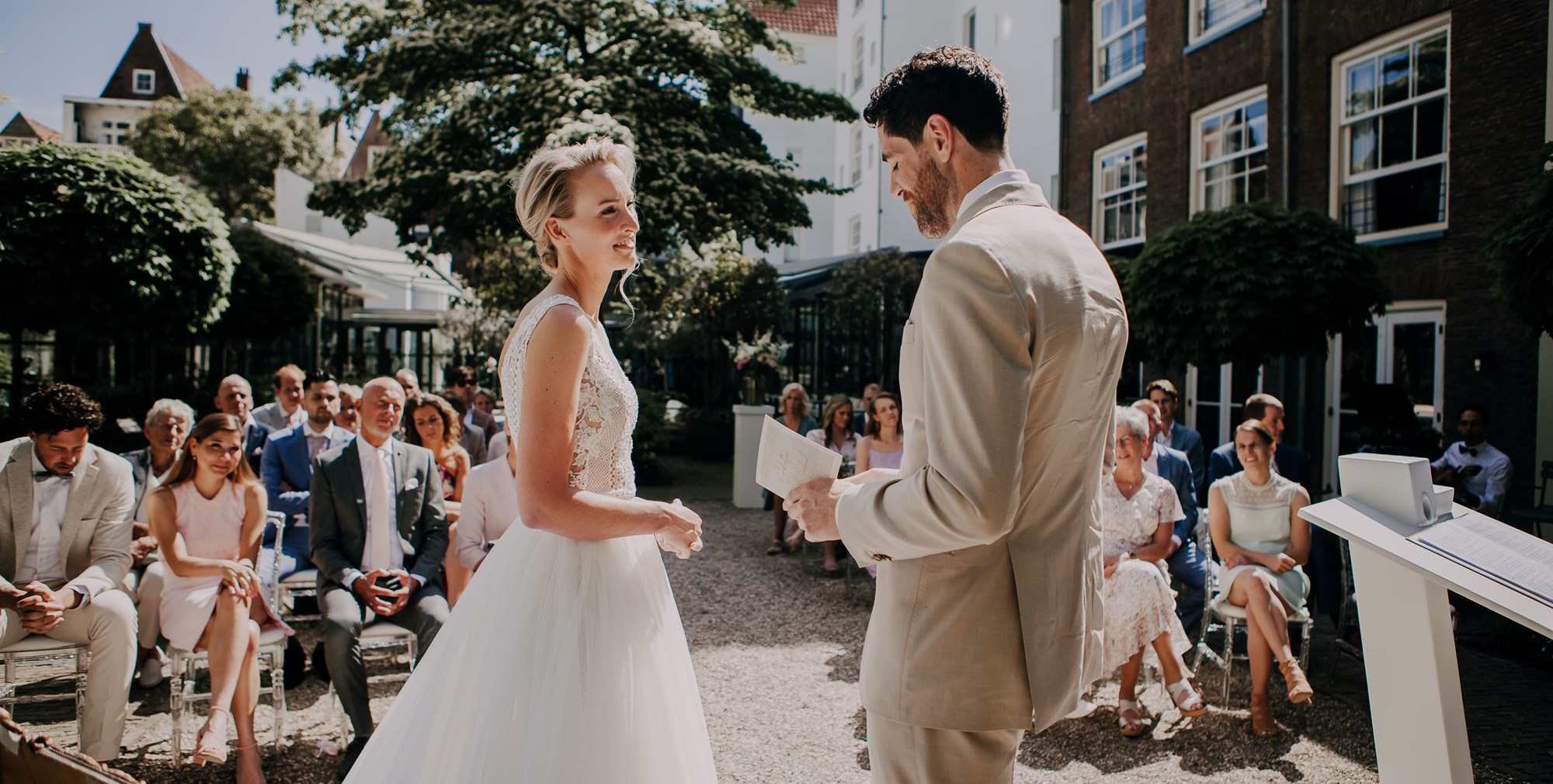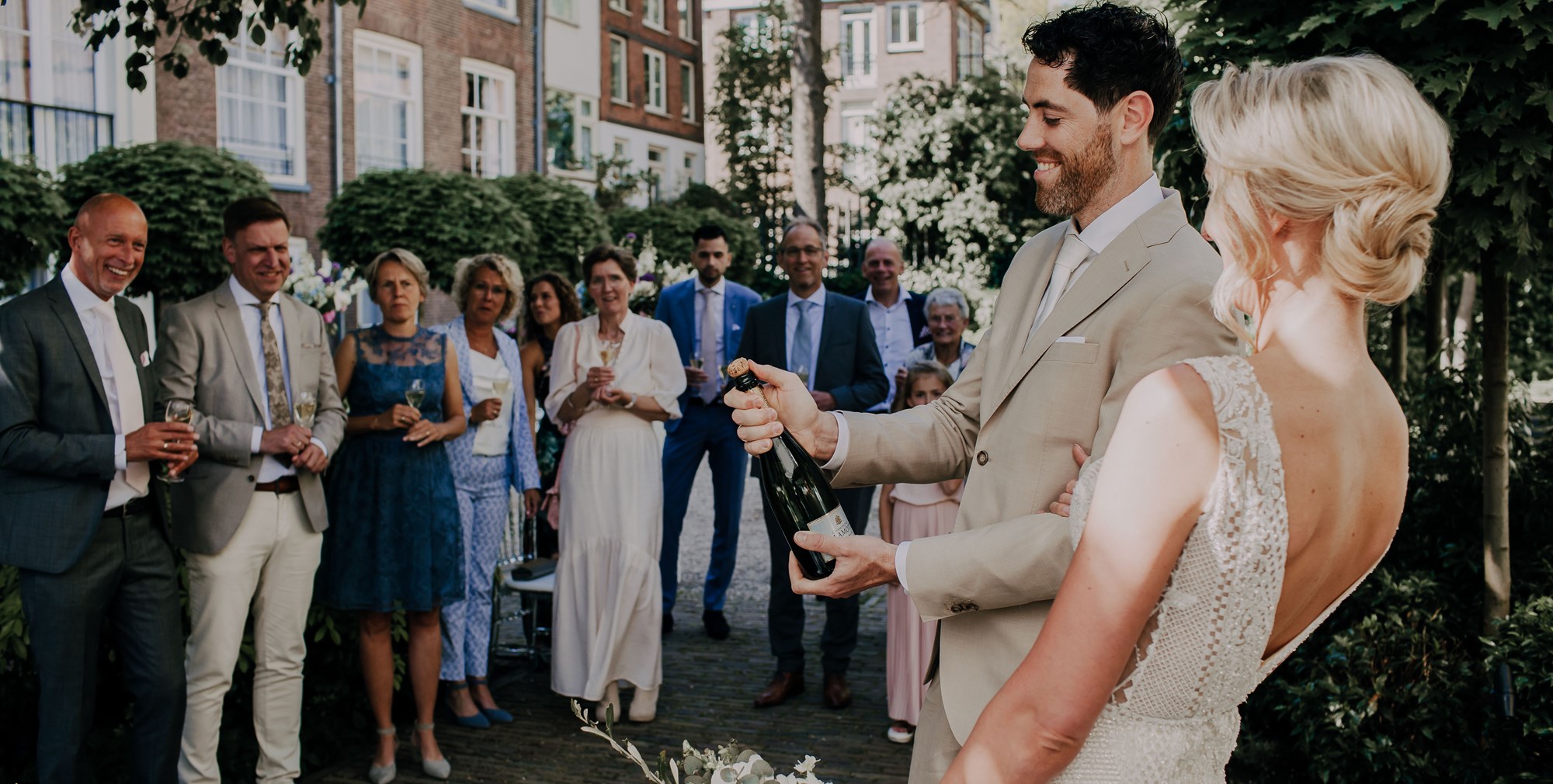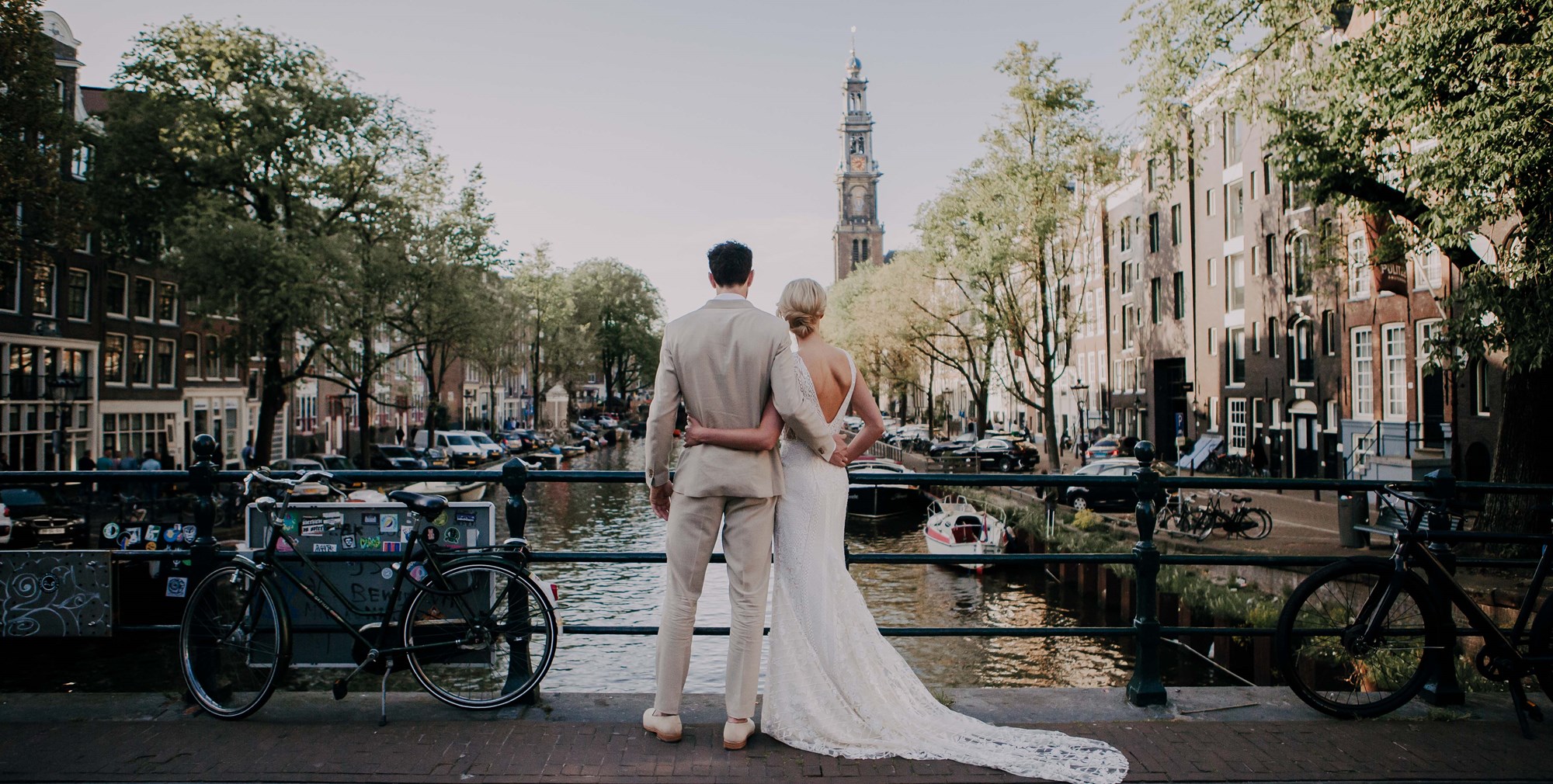 The perfect wedding location in Amsterdam
Most of us define a wedding day as the most magical day of our life. A perfect wedding dress, an intimate ceremony with your loves ones and spending the night in a beautiful room for that ultimate honeymoon feeling. Pulitzer Amsterdam, located in the heart of the city overlooking the picturesque Amsterdam canals, offers an unique and unforgettable setting for your special day. Keep on reading and be amazed by all the options for a tailor-made wedding of your dreams.
Start your magical day in the hotel's tranquil inner gardens, surrounded by lush greenery, which provide a serene setting for a wedding ceremony up to 100 guests. Followed by a variety of cocktails and nibbles while the happy couple captures lasting memories of their special day. Not only does the hotel offer picturesque outdoor settings, the hotel's hallways filled with marble, chandeliers and endless art pieces along with the surrounding canals provide a romantic setting for your wedding photos.
Sail the day away
For the reception, the hotel offers a variety of options, including a grand ballroom. The Saxenburg Room features an elegant décor, high ceilings and a spacious dance floor, making it the perfect venue for a toast with loved ones. For more intimate gatherings with your dearest relatives, Pulitzer Amsterdam offers an unique experience, a tour on The Tourist - a Saloon Boat dating back from 1909 - for a truly unforgettable celebration along the city's famous landmarks.
Arriving back in the hotel, the private dining rooms offer a cozy setting for smaller groups or enjoy a long table dinner in the Saxenburg Galleries; a spacious, art-deco setting overlooking the canal. The hotel's experienced wedding planners will create a personalized menu that reflects your taste and style to create a tailor-made package including floral arrangements and music ensuring every detail is taken care of.
Happy ever after
After a day filled with memories, end your magical day with a romantic honeymoon in the Pulitzer Suite. Stay the night in one of the most spacious and extraordinary rooms of the hotel, featuring an ultra king-size bed, a freestanding bathtub and a large living area decorated in elegant yet sophisticated style. The perfect place to pamper yourself and unwind after a long day.
Whether you are looking for an intimate gathering on Pulitzer's Saloon Boat with your dearest or a ceremony up to 100 guests in the tranquil inner garden, be amazed by all the options for a tailor-made wedding of your dreams at Pulitzer Amsterdam.