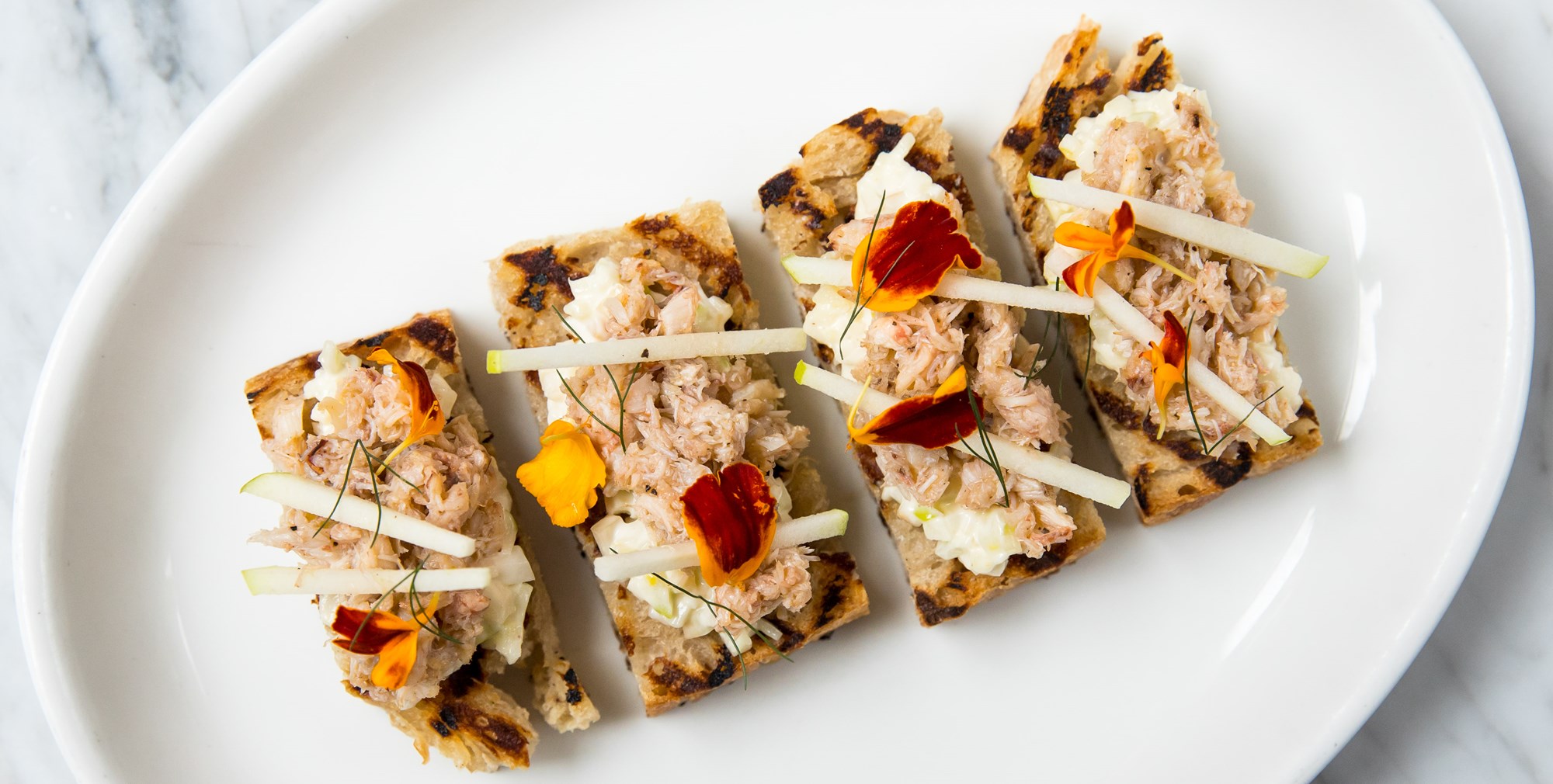 The Secret to our Crab Toast
Not just Jasper's favorite, Chef in Jansz., but also one of ours; the Crab Toast. Versatile, fresh, creamy and prepared seconds before it is served, the Crab Toast is very popular among our guests. In December only, the toast has been ordered 450 times for lunch and dinner. A true Jansz. classic we can say.
Jansz. serves beautifully crafted dishes, inspired by the modern-Dutch cuisine using ingredients that are led to and from the Netherlands. Team Jansz. creates dishes based on seasonality to use the best and freshest ingredients. Yet we have to admit that the Crab Toast has been around for over a year now. Not only because of its popularity, but also because the guaranteed high quality of the crab all year round as it comes from different parts of the North Atlantic Ocean.
Toast it
It all starts with warm sourdough or gluten free toast. Tip from our chefs when making toast at home, sprinkle it with garlic oil and fry it in the pan on both sides. The perfect toast is warm and crispy on the outside but still soft on the inside. The crab mixture on top is prepared a la minute with a fresh fennel apple mayonnaise, dill and lemon juice, the perfect balance between sweet and sour. The toast is garnished with freshly sliced apple and colourful flowers as an extra touch. With its crunchy base and creamy topping this dish is perfectly suited as a starter. But because sharing is caring, we may also recommend it for the table, next to one of our vegetarian toasts that varies every season.
The secret ingredient we must share
Not only the crab makes this all-time favorite so successful. A key ingredient to the sweetness of the topping is a secret we can't help but share; ketchup. Yes, really.. Our chefs use it as a counterpart to the sourness of the lemon, making it a complete taste sensation.
The perfect pair
For all the wine lovers we recommend having a glass of William Févre Chablis with the Crab Toast. The freshness of this white wine, together with the hint of citrus, white fruits and flowers are the perfect combination with the apple, fennel and dill flavours of the toast.